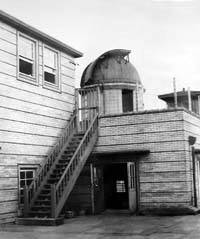 In 1938, the Taiwan Daily, a forerunner of the Taiwan Hsinsheng Daily, donated a four-inch reflecting equatorial telescope to the Taipei Military Headquarters in commemoration of the Taiwan Daily's 40th anniversary. In 1945, following Taiwan's Restoration, Kung-hui Hall was taken over by the city government, and its name was changed to City Hall, making it the precursor to Taipei Astronomical Museum.
Later, before satellites were launched into orbit around the Earth, the "China Satellite Observation Committee" was founded in 1958 at the request of the American Smithsonian Observatory. Observation teams were organized and they participated in astronomical observation representing the R.O.C.
The Society's quest for information regarding astronomy increased dramatically in 1957 after the first satellites were launched into orbit and human history took a leap into another era. Since the bright light emitted at night in the vicinity of the City Hall interfered with observations of the space, Taipei City Government approved the observatory's move.
After the planning stages of the observatory were completed, it was decided that it should be established at the Yuanshan Scenic Area. Construction began in 1960 and was officially completed in 1963. After the city government was transformed into a directly administered region, the observatory's regulations were sent to Executive Yuan for review, and received approval in 1969. Because it was decided that the study of astronomy is an important component of scientific education and the observatory's equipment was in desperate need of upgrading, the construction of a new planetarium was commenced in 1978 and was completed on July 1, 1980.
With the rapid increase of Taipei's population, however, the size of the original observatory facilities was found to be too small to meet demands. As it has on numerous occasions, the City Council responded quickly to requests to make the necessary additions to Taipei Astronomical Museum, like increasing its area, improving its exhibits and systematically enhanceing its facilities for astronomical education. In 1993, under the auspices of Taipei City Government, construction officially began on the new Taipei Astronomical Museum on No.363 Jihe Road in the Shilin District.
From 1938 to the present, with the moving of the earlier telescopes from Kung-Hui Hall to City Hall, and the relocation of the facility from the Yuanshan Observatory to the present day Taipei Astronomical Museum, astronomy education in Taiwan has become stronger and more influential in scope.